Heliostorage Solar Thermal Collectors
Heliostorage Solar Thermal Collectors
The Heliostorage solar thermal collectors have a unique patented profile that captures thermal energy throughout the day. Unlike flat panel collectors that require a specific elevation angle to achieve high efficiency at a single point in the day, the Heliostorage design maintains efficiency from sunrise until sunset, this is due to it's built-in elevation angle. The solar collectors angular profile provides better solar radiation absorption during mornings and evenings than flat profile collectors.
The solar collectors are made of weather- and time-resistant aluminium profiles and stainless steel. The aluminium profiles are covered with a special black coating that effectively captures the sun's heat. A durable polycarbonate plexiglass is installed on top of the profiles, so that the air layer between the profile and the plexiglass heats up and effectively heats the liquid circulating inside the profile.

Install on Roof or Mount on Land Frames
The Heliostorage solar thermal collectors can replace an existing roof.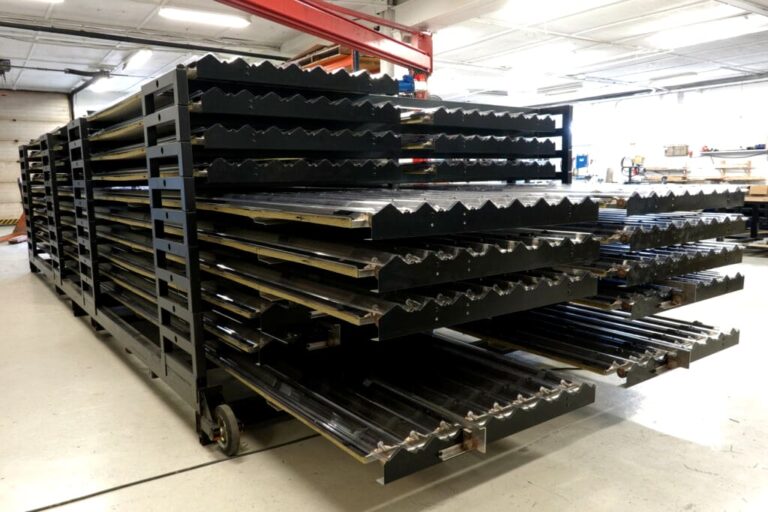 Heliostorage's collectors work both as solar collectors and as a watertight roof. The profile can be used directly as metal roofing material so that it becomes part of the building structure, requiring only standard insulation underneath. As such, the Heliostorage's solar collectors can completely replace an existing metal or tile roof. The solar collectors integrate seamlessly with other roof structures, making the building self-sufficient in terms of heat production.
Collectors can also be installed at ground level using frames. This allows for the creation of a solar thermal field for larger installations, such as district heating or industrial heating. 
Manufactured to Suit Your Needs
We manufacture the Solar collectors at our own factory in Kokkola, Finland. They are built in dimensions to suit the customer's needs, with the length and width of the solar collectors being adapted to the specific installation.
Looking for an Alternative Heating Solution?
If you have a heating demand in excess of 300 MWh and would like to see if Heliostorage could help you to lower your energy bill, complete the questionnaire and we will get back to you shortly.